Robert Kirkman, o criador da série que nos vai mostrar como tudo aconteceu, dá-nos mais detalhes sobre Fear the Walking Dead.
"A ideia de fazer um novo programa deu-me arrepios. Quando o AMC me propôs fazer uma nova série para acompanhar a história de The Walking Dead, comecei a pensar – Criei The Walking Dead quando tinha 23 anos. Tinha 34, 35 quando comecei a desenvolver a série.- Então entrei numa competição comigo mesmo. Queria saber se o velho e cansado Robert Kirkman de 35 anos conseguia fazer algo melhor do que a visão do apocalipse que teve o jovem e energético Kirkman de 23″, comentou o criador da série.
"Sucedeu que o velho e cansado Robert precisava de ajuda, e essa ajuda encontrei em David Erickson. À medida que fui trabalhando com Erickson foram surgindo novas personagens e uma nova visão do mundo, esta versão de Los Angeles de The Walking Dead. Aqui não está o material descartado ou os restos, não se trata de personagens que não entraram na série ou na banda desenhada, é uma história completamente nova criada especialmente", agregou Kirkman em declarações à IGN.
Ao ser consultado sobre as personagens da história, Kirkman mostrou-se verdadeiramente entusiasmado com a dinâmica que vão dar à série: "Por um lado temos Madison e a sua família e por outro, Travis e a sua família. Estão a tentar construir uma vida juntos, estão a preparar-se para o casamento e de repente a civilização começa a desmoronar-se à sua volta".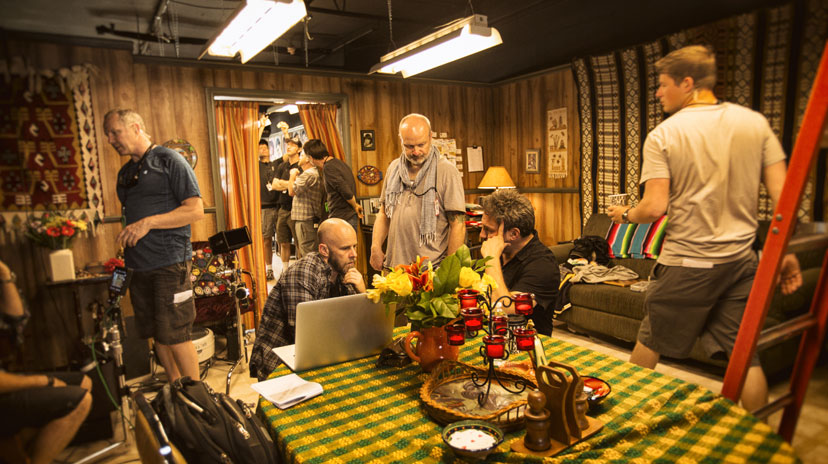 "Acho que uma das coisas mais surpreendentes para os fanáticos será que vamos dar mais importância a coisas que deixamos de lado na outra série. Ter Rick a despertar de um coma deu-nos uma dinâmica divertida e diferente, mas agora vamos ver como é que a civilização se derruba à volta das personagens e como aprendem a sobreviver neste ambiente cada vez mais perigoso e incerto. Isso fará com que a série seja completamente diferente", acrescentou Kirkman.
O criador do mundo de The Walking Dead também se referiu aos walkers que aparecerão na série: "Eles vão ser completamente diferentes, não estarão em decomposição e não serão tão monstruosos, o que deixará tudo mais confuso e perigoso. Porque estaremos a lidar com walkers mais "humanos" e isso irá permitir unir o melhor dos dois mundos".
Para finalizar, Kirkman deu-nos as suas impressões sobre a série e sobre o que esta pode gerar: "Acho que Fear the Walking Dead permitirá aos fanáticos ter uma perspectiva melhor do mundo, mas penso que não vamos chegar a mostrar a causa que originou tudo, não é algo tão importante. Se fizéssemos uma série com um monte de cientistas a analisar a cura seria muito chato".
Agora que sabes o que o cérebro por detrás do apocalipse zombie acha sobre a série, ficaste ainda com mais vontade de vê-la?